Enrich your offer with natural skincare oil from the Amazon rainforest.
Rich in β-carotene, it contains five times more carotene than carrots, which makes it the most wanted summer skincare oil.

Carotene will provide your summer products with the natural development of skin pigment for beautiful bronze skin.
The cosmetic industry is always in search of something new, isn't it? Well, we traveled deep into the Amazon rainforest to bring you traditional knowledge of natural beauty and enrich your offer of cosmetic ingredients with oils and resins from indigenous tribes of the Amazon.
It's the peak of buriti palm fruit harvest. The first cold-press buriti oil is expected to be processed as we speak, in January 2021, and transported to Europe in the following months. We made our first steps into New Year with a strong focus on trading with local communities and protecting the native land despite the covid-19 crisis. Therefore, Mayantu is ready to launch an offer for wild harvest supplies in amazonian fruit and wood resins for the upcoming season of 2021.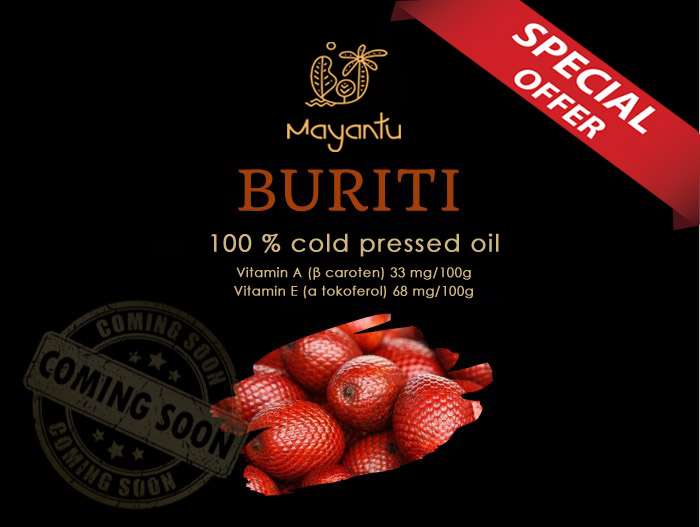 Presale offer 10 - 15 % lower
You can find a presale offer in the presented text below, with prices 10 – 15 % lower than our regular offer and the possibility of ordering larger quantities of freshly processed oil. In accordance with the interest, we are setting a quote for this year's harvest in cooperation with the local communities of Peru. Therefore, we would very much appreciate it if you could inform us of your interest by the end of February.
The ripening of the fruit in its natural habitat of the Amazon coincides perfectly with the beginning of summer season products for the European market. Extremely rich in carotenes Buriti fruit a favorite cosmetic ingredient for summer cosmetics.
| Value | Trade name of the goods | presale price/liter | minimum order |
| --- | --- | --- | --- |
| Value 1 | Buriti (Mauritia flexuosa ) | 45,00 EUR | 5 l |
| Value 2 | Buriti (Mauritia flexuosa ) | 40,00 EUR | 10 l |
| Value 3 | Buriti (Mauritia flexuosa ) | 35,00 EUR | 20 l |
| Value 4 | Buriti (Mauritia flexuosa ) | 28,00 EUR | 40 l |